Thanksgiving Preparations
Well, here we are. It's the weekend before Thanksgiving and most people are undoubtedly working on getting their dinner menus ready, or at least thinking about what special plate to bring with them for Thursday's traditional family gathering. With the focus on family, food and Thanks, I thought that this weekend's 'Poem To Consider' should be John Greenleaf Whittier's "The Pumpkin" which encompasses all three.
Whittier was a Quaker, an abolitionist and a poet who lived from 1807-1892 in New England. He was a part of a small group of poets called the Fireside poets which also included Henry Wadsworth Longfellow and Oliver Wendell Holmes Sr.  They were so named because people would read their poetry while gathered together by the fireplace. They were the popular poets of the day who wrote about everyday life, nature and politics.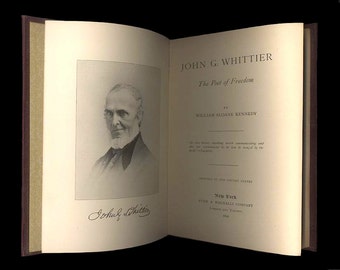 Whittier witnessed a lot of change and transition in his country including the devastating effects of a civil war, the assassination of a president and finally the abolition of slavery, which he worked ardently to bring to end.
He is most famous for his poem Snowbound, but today I would like to share another one of his poems titled "The Pumpkin".
I appreciate the imagery and descriptions of abundance in this poem.  When the author begins to speak of Thanksgiving Day, he gets to the heart of the matter: family and memories.  He asks "What calls back the past, like rich pumpkin pie?"  It is the traditional and abundant pumpkin that represents everything that matters most to a person.  Pumpkin pie, "the fruit loved of boyhood", represents sweet memories of his childhood.  For all of us, isn't it true that there is some dish that reminds you of your childhood and special family gatherings?
In my own family growing up, my mom always made glazed carrots for me and my dad, even though they were not her favorite. She made that just for us and it reminds me of just how much she did and gave of herself for us. I still have my parents in my life and my mom still makes glazed carrots because she knows I love them. I am so thankful for my mom and my family!
And similarly, in this poem, Whittier concludes on a high note of thankfulness. He says that "the prayer, which my mouth is too full to express…" is for sweet and long lives for those around his table. As we take time to gather around our own family tables this season, won't we wish for the same?  It's a wonderful, happy poem, full of imagery and emotion!
I like this poem because it's about remembering the past with joy and fondness and being thankful in the present; it's about appreciating our families and the people in our lives. Thanksgiving often tends to center on the meal: the turkey, the side dishes, the desserts…pies… and Whittier uses food, the pumpkin in particular, as a representation of abundance and a reminder of sweet and happy memories of family and childhood.
—————-
The Pumpkin
Oh, greenly and fair in the lands of the sun, The vines of the gourd and the rich melon run,
And the rock and the tree and the cottage enfold,
With broad leaves all greenness and blossoms all gold,
Like that which o'er Nineveh's prophet once grew,
While he waited to know that his warning was true,
And longed for the storm-cloud, and listened in vain
For the rush of the whirlwind and red fire-rain.
On the banks of the Xenil the dark Spanish maiden
Comes up with the fruit of the tangled vine laden;
And the Creole of Cuba laughs out to behold
Through orange-leaves shining the broad spheres of gold;
Yet with dearer delight from his home in the North,
On the fields of his harvest the Yankee looks forth,
Where crook-necks are coiling and yellow fruit shines,
And the sun of September melts down on his vines.
Ah! on Thanksgiving day, when from East and from West,
From North and from South come the pilgrim and guest,
When the gray-haired New Englander sees round his board
The old broken links of affection restored,
When the care-wearied man seeks his mother once more,
And the worn matron smiles where the girl smiled before,
What moistens the lip and what brightens the eye?
What calls back the past, like the rich Pumpkin pie?
Oh, fruit loved of boyhood! the old days recalling,
When wood-grapes were purpling and brown nuts were falling!
When wild, ugly faces we carved in its skin,
Glaring out through the dark with a candle within!
When we laughed round the corn-heap, with hearts all in tune,
Our chair a broad pumpkin,—our lantern the moon,
Telling tales of the fairy who travelled like steam,
In a pumpkin-shell coach, with two rats for her team!
Then thanks for thy present! none sweeter or better
E'er smoked from an oven or circled a platter!
Fairer hands never wrought at a pastry more fine,
Brighter eyes never watched o'er its baking, than thine!
And the prayer, which my mouth is too full to express,
Swells my heart that thy shadow may never be less,
That the days of thy lot may be lengthened below,
And the fame of thy worth like a pumpkin-vine grow,
And thy life be as sweet, and its last sunset sky
Golden-tinted and fair as thy own Pumpkin pie!
—-
Having read thru the whole thing, what did you think?
What are your thoughts about this poem? Is there some dish that you simply must have at Thanksgiving because it speaks of family?  Tell me in the comments below.